By managing and maintaining various workshops and equipment, Veolia Nuclear Solutions has been able to develop the following fields of expertise:
Designing, constructing and operating the very low activity waste stabilization site
Injecting packages into cells, including tritiated packages
Degassing radiferous packages
Reducing the volume of solid waste
Designing storage facilities
Quality control for solid waste
Each year, almost 25,000 packages are accepted, checked, prepared and put into storage. Through this process, the proper acceptance procedures and handling techniques for low-level radioactive waste are applied, with a focus on safety rules, radiation protection, and the protection of the environment.

The ANDRA CIRES site, in Morvilliers (Aube, France), receives nearly 30,000 m³ of waste each year.
In 2008, ANDRA entrusted Veolia Nuclear Solutions with the following services:
radiological and environmental monitoring
logistic and assistance tasks for ANDRA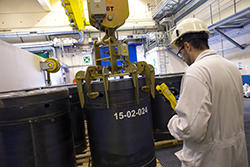 In 2011, the services entrusted to Veolia were extended to operating control cell C016, consisting of opening, checking and inspecting parcel quality, in terms both of physicochemical and activity characteristics.
Following a tendering procedure launched by ANDRA for the renewal of the CIRES operation contract, a new 7-year contract as the facility operator was awarded to Veolia Nuclear Solutions. 
According to the terms of this new contract, starting at the end of 2015, Veolia Nuclear Solutions operates and maintains all CIRES facilities (logistics building, treatment building, VLA waste storage compartments, active waste grouping building, active waste storage building, maintenance and parcel inspection).