The tsunami and earthquake that struck Japan in 2011 resulted in significant damage to the reactors emergency cooling systems.  This caused the reactor fuel to overheat and consequently damaged the fuel. Subsequent venting and ignition of hydrogen gas also caused extensive damage to the upper portion of the facility.
It is believed that in each of the reactor buildings, a portion of this damaged fuel melted through the bottom of the Reactor Pressure Vessel (RPV) into the Primary Containment Vessel (PCV) structure. Normally both the RPV and PCV should be sealed, however due to the damage, water has to continually be added in order to keep the fuel cool and stable to avoid further complications. This water subsequently leaked into other portions of the facility which created extensive contamination issues.
 
Once stabilized, the reactor buildings have continued to require vast amount of water to cool the fuel. This process will continue until a solution can be implemented to fix the leaks and eventually retrieve the fuel in future decommissioning activities.  Both activities of which Veolia Nuclear Solutions is currently involved in.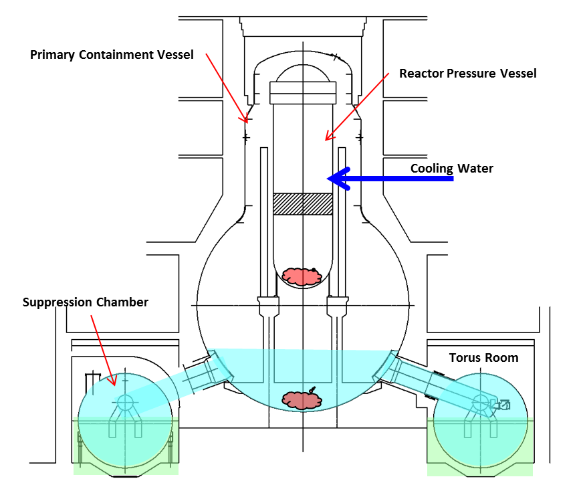 Diagram of Current Water Recirculation in Reactor
Objective
It is necessary to have the PCV filled with water in order to proceed with planned decommissioning and remediation activities.  Thus, over the past 4 years, Veolia Nuclear Solutions has been tasked to deliver robotic/remote handling equipment to locate and ultimately seal the leaks for future removal of the damaged fuel and other debris.
 
Project Challenges:
Limited access times for installation
Limited space for equipment installation
Space for installation is limited
Underwater operations required
Size reduction of obstructions required
Deployment of a multitude of tools required: ROVs, waterjet cutting tools, and grouting equipment
Sampling and removal of melted Nuclear Fuel
Packaging of a variety of waste forms including ILW and HLW (fuel)
Phase 1 – Inspect and Repair
Veolia Nuclear Solutions was tasked to design, manufacture, test, and deliver two long reach robotic manipulator systems called the Fukushima Inspection Manipulator and Fukushima Repair Manipulator (FIM and FRM).   The mission of these systems is to inspect and repair leaks that are present in the lower levels of the Unit 2 reactor at Fukushima.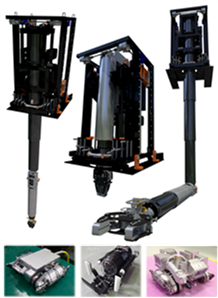 In 2014 the FIM was deployed into the first floor of the unit 2 reactor building to inspect the vent tubes and suppression chamber. This system is composed of a manipulator arm (FIM), cable management system, cutting tools, and ROVs. All of this equipment had to be installed through the existing doors and corridors inside the first floor of the reactor building. Penetrations were cut into the floor of the building above the location of the PCV vent tubes in the basement. The equipment must all be designed to fit within the existing constraints of the first floor while having the reach and payload to perform the systems necessary operations. All of this equipment is designed to be used in a very difficult operating environment which includes water, high radiation, contamination, and damaged infrastructure. 
In 2016 the FRM was delivered to the Naraha testing facility in Japan for rigorous testing and training to repair the leaks previously identified by the FIM in the unit 2 reactor. This manipulator arm consists of the same components as the previously designed FIM proving that existing designs can be modified and utilized across complex decommissioning projects. Deployed in the same locations as the FIM, the FRM is tasked to cut through the PCV and vent tubes using a variety of cutting methods, e.g. high pressure waterjet.  Once access is made to the vent tubes, a custom tool will be deployed to deliver an inflatable bag and quick setting grout to plug each of the 8 vent tubes and thus prevent any future leaks. The PCV repair project is currently estimated to commence in mid-2017 with operations to continue through 2018. Once sealed, all Fuel debris activities including investigation, sampling, and retrieval can begin.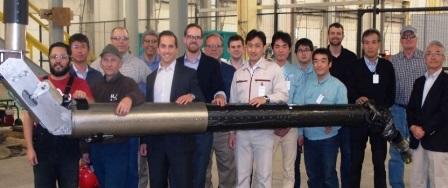 FRM System and Veolia Nuclear Solutions, Toshiba and IHI Team Members
Phase 2 – Fuel Debris Retrieval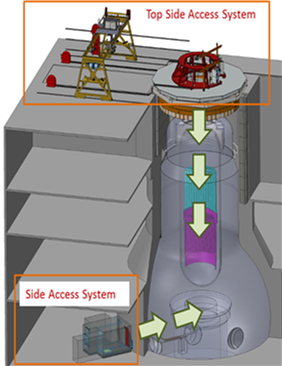 Fuel debris retrieval at Fukushima is the mission critical task facing the site moving forward. Currently, various approaches for fuel debris retrieval have been considered by a number of different companies. The Veolia Nuclear Solutions approach consists of two independent remote handling systems to access fuel debris from two independent access routes:
Top-Side Access Retrieval System
​Side Access Retrieval System
Access within the reactor building is restrictive and extensive preparation work is necessary to start operations for fuel debris retrieval. Thus, the systems are designed to be installed in a manner which reduces the need for building modifications as much as possible. While some limited personnel access may be available to certain areas of the reactor building, there are areas which will require complete remote installation and operation of equipment.
This approach used by Veolia Nuclear Solutions is based on an ALARA (As-Low-As-Reasonably-Achievable) principle and provides safe, practical and efficient site operations for the fuel debris retrieval in a shorter period.
 
The following criteria is being used as the fuel retrieval design progresses:
Safety and reliability - Equipment is required to be robust for long-period and high-level remote operation. Additionally, experienced or developed technologies are preferable.
Operational flexibility and variability - The condition of the inside the reactor is mostly unknown and thus the equipment is required to be designed account for operations flexibility and variability (e.g. varieties of tools and arms are prepared)
Ease of maintenance - Due to long period operation and very high radiation environment, easy and quick maintenance or replacement works for key components are required.
Rescue and recovery systems for all systems - Any equipment has to be rescued and recovered to safety area in any conditions. 
Our approach for the fuel debris retrieval leverage existing designs and proven operational equipment delivery.  The next phase of the project in 2017 will require trialing and component testing efforts. This is required to demonstrate reliability and practicality, and to identify efficiencies for future operations. There are many challenges to address for restoration of the Fukushima Daiichi Site but the international collaboration by Veolia Nuclear Solutions and our Japanese team partners will ultimately lead to the success of a very challenging project.
The breadth and depth of Veolia's experience on challenging remote handling projects is unmatched across multiple industries. The effective delivery of our solutions have been used on some of the most publicized, mission critical projects worldwide such as those at Fukushima, Hanford and Sellafield.