Veolia Nuclear Solutions (VNS) will once again join top industry leaders at the 2023 Waste Management Symposia, taking place in Phoenix, Arizona, from Feb. 26 to March 2
This year's conference revolves around the theme, "Planning for the Future: Innovation, Transformation, Sustainability." More than 2,000 industry leaders and decision makers from 30 countries are expected to attend the five-day event to discuss the global tasks of radioactive waste management, decommissioning and site remediation.
WMS provides the premier open forum for discussing and seeking safe, environmentally responsible, technically sound and cost-effective solutions to the management and disposition of radioactive wastes and the decommissioning of nuclear facilities to enhance the transparency and credibility of the global radioactive waste industry.
VNS and its mitigated entity in the U.S. – Veolia Nuclear Solutions – Federal Services (VNSFS) - will be a key voice at WMS 2023. Jean-Francois Nogrette, Director General of Veolia France and Special Wastes Europe, is one of the keynote speakers for the opening session on February 27, when he will share Veolia' vision for a long-term nuclear future where waste is more manageable, safer and less costly.
More than a dozen experts from VNS and VNSFS are also sharing their expertise in presentations, on panel discussions and through posters throughout the week.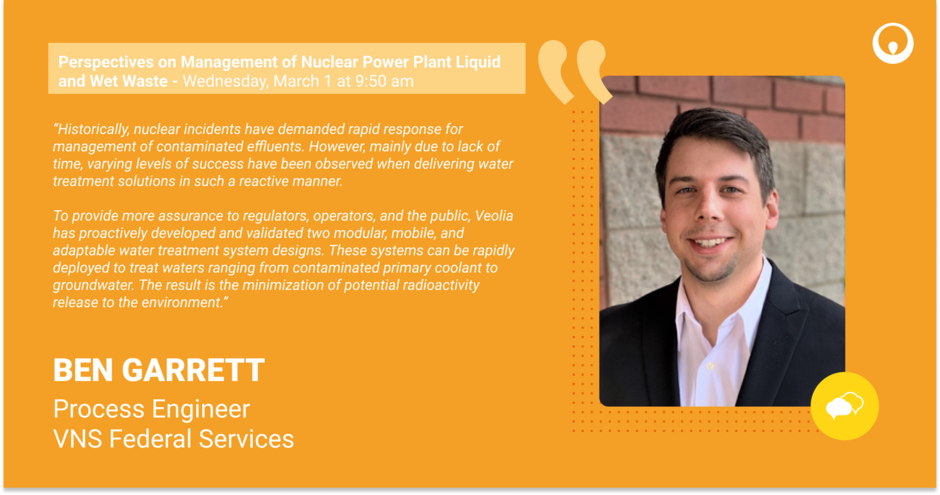 "We continue to build our brand in this market as a trusted solution-oriented partner for technology innovations, engineering services, and a full range of waste management/D&D capabilities" said Steve Moore, President and CEO of VNSFS. "In 2022, we deployed our GeoMelt® technology at the Waste Control Specialists facility in Andrews, Texas, to demonstrate our commitment to taking on the hard challenges that remain throughout the (U.S. Department of Energy) complex. We're just getting started!"
Innovation, transformation and sustainability are key to the solutions Veolia provides for complex waste management issues worldwide. At this this year's WMS, the Veolia team will highlight its impressive strides in global waste management and international collaborations, including:
Sharing Veolia's vision for a future where technologies can greatly reduce or even eliminate risks to humans of handling nuclear waste and is environmentally friendly. One where modern technology and learning from other sectors fortifies efficiency, strengthens resilience and lengthens the lifespan of nuclear power plants both new and old. 
Showcasing the contributions of VNS such as developing automated waste management solutions, batch vitrification technology with GeoMelt® and how new innovations are helping to lead a new way of tackling cleanup challenges.
Highlighting international partnerships and initiatives such as Graphitech and Waste2Glass. These joint ventures with Électricité de France (EDF) will be highlighted in the French Village at WMS and will provide insight into how digital twin technologies are being used to de-risk major projects.
Dominique Richit, CEO of VNS said: "At Veolia, we consider ourselves to be a world leader in ecological transformation. Nuclear energy skeptics raise familiar questions around waste and the commissioning and decontamination of legacy nuclear units. The key to winning public confidence in the deployment of new civil nuclear projects is to demonstrate three things: safe decommissioning of our legacy assets; efficient backend waste processing of new nuclear reactors deployment; and the subsequent safe and environmentally sustainable consignment of the wastes."
Veolia Nuclear Solutions is driven by these purposes, Richit said, which it has demonstrated recently through the deliveries of key projects: GeoMelt® in Andrews, Texas, in the USA; remote-handling solutions to Fukushima Daiichi  in Japan; and the mobile treatment of high-level nuclear polluted cooling water in France.