With the theme of this year's conference "Reducing long-term environmental liability through efficient, effective cleanup," the VNSFS team could not be better positioned to tell its story to the radioactive waste management industry, said VNSFS CEO Billy Morrison.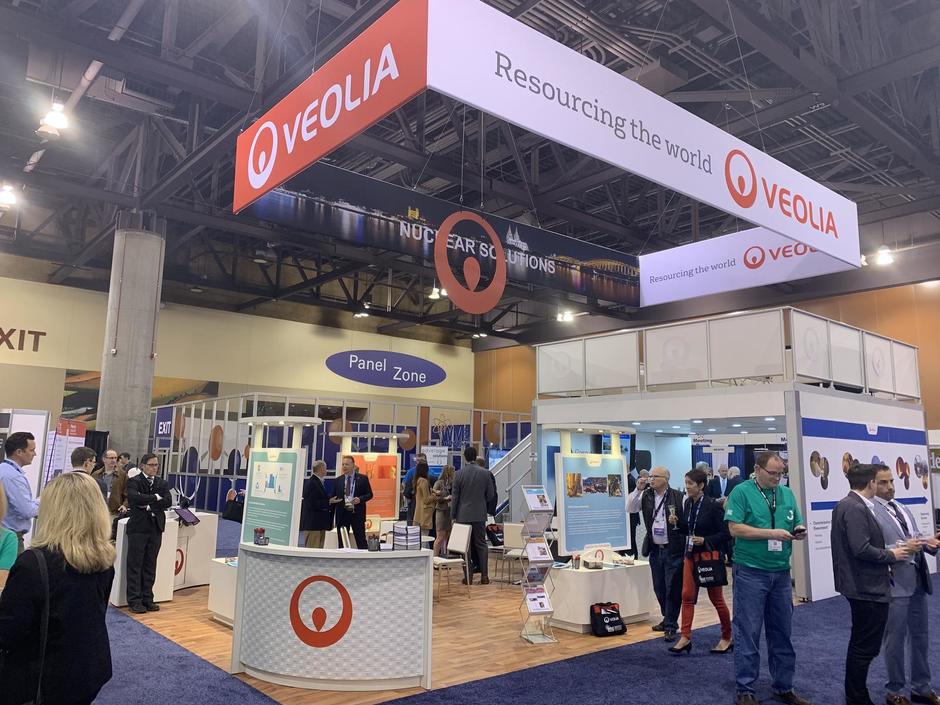 "Last year saw our team celebrate a number of critical milestones and successes that continue to demonstrate the unique value we bring to our customers," Morrison said ahead of the March 8-12 meeting. "We fully expect to build on and leverage that success in the new year while continuing to grow. From expanding use of our GeoMelt® technology to utilizing Veolia's unique mix of in-house technology and experience to tackle mercury issues at Oak Ridge and other sites, VNSFS is poised for a breakout 2020."
Veolia will again have a significant presence at the annual Waste Management conference, highlighting the company's broad range of capabilities and technological offerings and showcasing significant successes of the past year. In addition to the main VNSFS booth, which has become a popular networking and business hub at the event, the company will also again have the opportunity to celebrate its many positive contributions to responding to the Fukushima Daiichi disaster of 2011 at a Veolia Nuclear Solutions booth in the conference's Japan pavilion.
Looking to the year ahead, Morrison said VNSFS is thinking aggressively about growth – both in terms of contract wins and expanding the business organically and through acquisition.
"We are enjoying what appears to be an active acquisition-intensive nuclear market as we eye our growth in North America," he said. "We plan on acquiring and consolidating various radwaste treatment technologies and combining them with our nuclear waste operations to create an even more powerful one-stop shop for our nuclear clients."
VNSFS will also continue to strengthen and expand its relationships in the U.S. Department of Energy (DOE) federal market, as well as the decontamination and decommissioning (D&D) community. Awards such as the one announced in December to begin construction of a multi-million-dollar water detention system at the Portsmouth Gaseous Diffusion Plant (PORTS) D&D Project show demonstrate the value in our unique combination of deep-seated experience, operational know-how and cutting-edge technologies, Morrison said.
Expanding the deployment capability of Veolia's GeoMelt® technology to treat and dispose of orphan sodium wastes. Building off the company's successful partnership with Idaho National Laboratory, VNSFS hopes to further help Idaho and other sites solve orphan and "no-pathway" waste issues.
Utilizing the company's in-house technology and nuclear-waste operations experience to expand on the company's legacy of treating more than 560,000 tons of mercury-contaminated soil, debris and silts over the last five years at Oak Ridge and other sites.
Taking advantage of the company's water treatment experience, technological offerings and site knowledge at PORTS over the last 20 years to continue to support Fluor-BWXT and the broader EM-critical effort in safely decontaminating, decommissioning and demolishing the X-326 plant.
Leveraging our experience managing the Environmental Restoration Disposal Facility at Hanford and building the Off-Site Waste Disposal Facility at PORTS with Veolia's global experience managing waste landfills, to expand our role in supporting the design, build and management of low-level and hazardous waste landfills for DOE and other customers.
We're excited about the opportunities we see for the year ahead. Veolia's track record of efficiently and effectively handling significant environmental liabilities around the globe will position us for great success