Veolia Nuclear Solutions - Federal Services took part in the 4th annual National Clean Up workshop in Alexandria, VA on September 11-13. The conference brings together leaders of the U.S. Department of Energy (DOE), the contracting community, and local stakeholders to discuss DOE's progress on the cleanup of the U.S. environmental legacy left from the Cold War.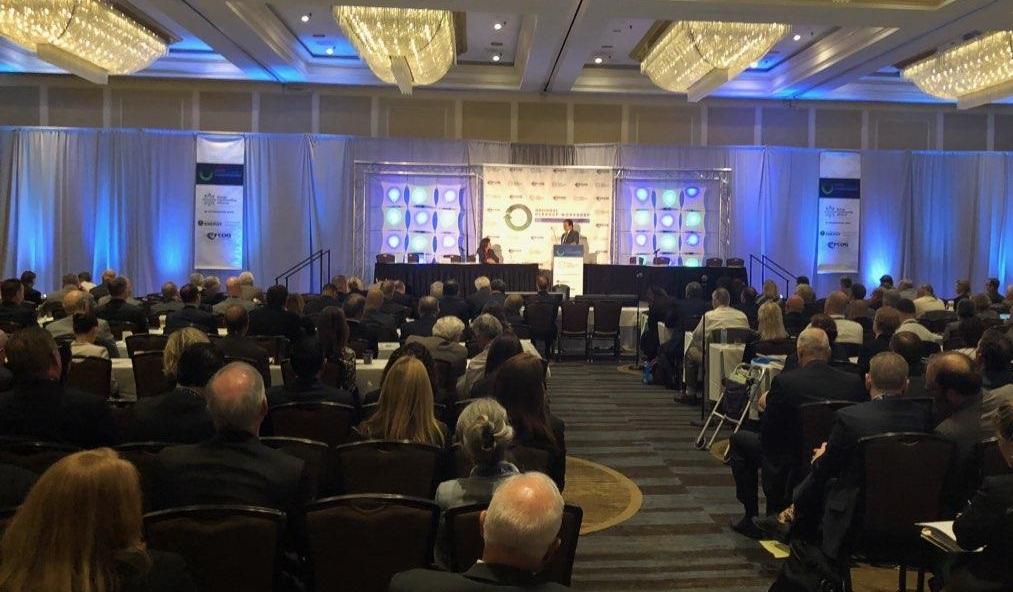 The conference is sponsored annually by the Energy Communities Alliance (ECA), the DOE Office of Environmental Management (DOE-EM), and the Energy Facilities Contractors Group (EFCOG). ECA is a non-profit, membership organization of local governments adjacent to or impacted by DOE sites and activities. EFCOG is an association of the contracting industry that manages DOE activities, facilities and sites, and aims to promote excellence in all aspects of the operation of DOE facilities.
DOE oversees the U.S. policies regarding energy, nuclear material production and safety. Its responsibilities include nuclear reactor production for the U.S. Navy, energy conservation, energy-related research, radioactive waste disposal and domestic energy production. EM is DOE's organization responsible for nuclear cleanup. It identifies, plans, funds and contracts out all the nuclear cleanup activities. Veolia Nuclear Solutions Federal Services is currently working at five DOE nuclear sites, where it performs waste management, remediation, decontamination and decommission work.
Veolia Nuclear Solutions - Federal Services played an important role during this meeting, both as Sponsor and Participant
In addition to his role as the Chairman of EFCOG, Billy Morrison, President and CEO of Veolia Nuclear Solutions - Federal Services, participated in several panels, including giving opening remarks for the conference and moderating a Question & Answer session about "Ensuring Continued Progress at EM sites" with Anne White, Assistant Secretary for DOE-EM. Anne White described how EM completes the safe cleanup of environmental legacy resulting from five decades of nuclear weapons development and government-sponsored nuclear energy research. She highlighted the need to safely store large volumes of nuclear waste, deactivate and decommission several thousand radiologically and chemically contaminated facilities and remediate extensive surface and groundwater contamination. In her remarks and through the Q&A facilitated by Billy, Assistant Secretary White discussed the positive aspect of getting full approval of the DOE-EM $6.6B budget for 2019, the numerous success stories at various DOE sites, the emphasis on and need for each site to complete its 10-year plans, and her major initiative and priority on shifting upcoming procurements to focus on "cleanup end-states."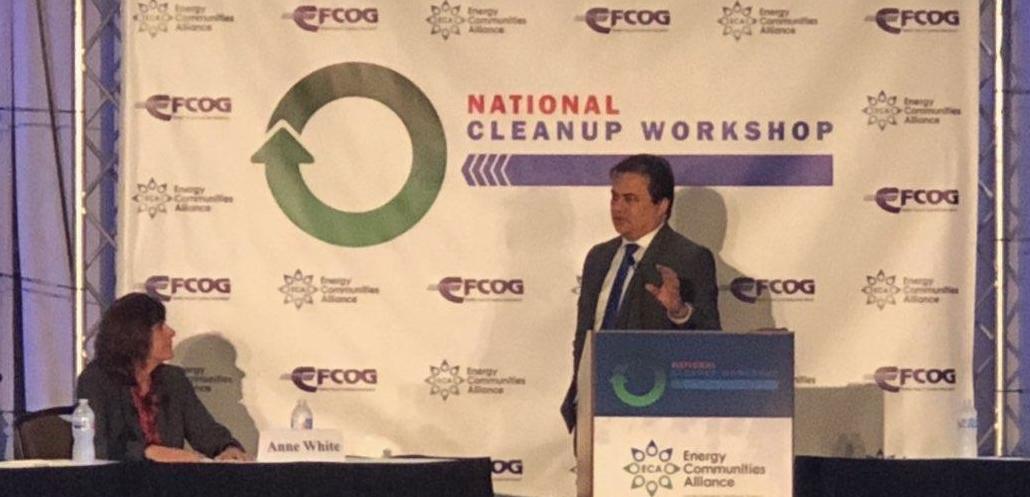 Billy Morrison also participated in a roundtable discussion on «Continuing Acquisition Momentum and Improving Project Performance» with Angela Watmore, Senior Advisor to DOE, Norbert Doyle, Deputy Assistant Secretary for Acquisition and Project Management (DOE), and other executives from industry including those from Bechtel, Westinghouse, Atkins/SNC, Jacobs Engineering, and Leidos. The panel focused on opportunities and challenges related to DOE-EM's "clean-up end state" initiative and how it would impact upcoming procurements and proposals.
 
U.S. environmental legacy, a major concern
The National Cleanup Workshop was also the occasion to focus on the main facilities and sites managed by DOE. The EM has managed 90 closure sites where cleanup and restoration have been completed. Presently, the EM manages 17 active projects. For instance, at the Hanford site, which over the years operated nine reactors at one point for the production of plutonium for the U.S. weapons program, 53 million gallons of radioactive waste are disposed in 177 underground tanks. Veolia Nuclear Solutions - Federal Services through its legacy companies has been supporting engineering at Hanford for more than 20 years, including at the tank farms. At the Idaho National Laboratory (INL), whose original mission was as an engineering design and test bed for experimental reactors and fuel designs, there is an active program for environmental remediation and waste cleanup. At the INL site, Veolia Nuclear Solutions - Federal Services, performs environmental monitoring and surveillance and spent Fuel Management at NRC licensed Facilities and has just begun a program of receiving and treating INL contaminated sodium bearing waste through its GeoMelt® technology and facility located in Richland, Washington.  All in all, Veolia Nuclear Solutions - Federal Services has operations at five DOE sites where it manages numerous nuclear facilities and programs.