Phoenix, Ariz. – Veolia Nuclear Solutions (VNS) and its U.S. affiliate – VNS Federal Services (VNSFS) - successfully put its mark on the recent 2023 Waste Management Symposia conference, highlighting Veolia's broad range of capabilities and innovations helping to reshape the radioactive waste management industry.
From the plenary address given by Veolia Director General Jean-Francois Nogrette, to Veolia's presence in the French Pavilion and exhibit hall, to the VNS and VNSFS experts in the technical program, the Veolia team demonstrated why 2023 is shaping up to be an exciting, eventful year.
Jean-Francois Nogrette,  Director General of Veolia France and Special Wastes Europe - Keynote Speech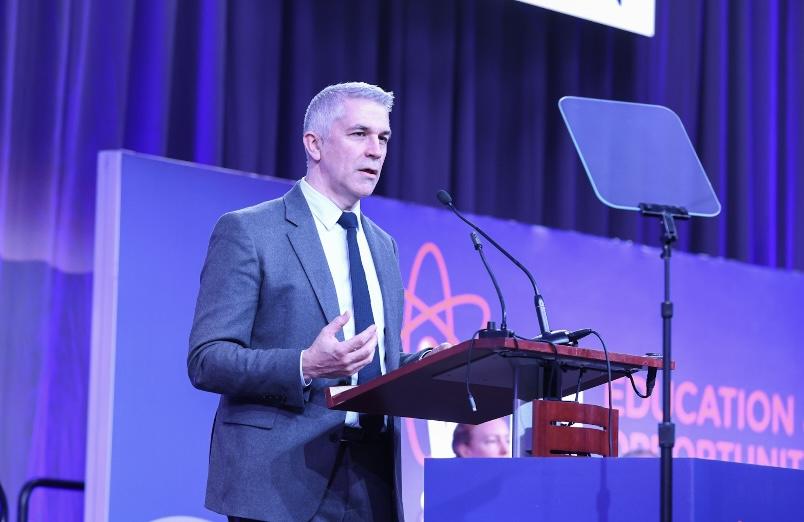 The five-day conference (Feb. 26 to March 2) set attendance records, with more than 2,500 attendees and a sold-out exhibit space featuring 173 organizations, companies and government agencies.  It is one of the premier networking and educational events for the U.S. Department of Energy (DOE) nuclear cleanup program.
The theme of "Planning for the Future: Innovation, Transformation, Sustainability" resonated throughout the exhibit hall and technical sessions – starting with Mr. Nogrette's keynote speech at the conference's opening session.  Mr. Nogrette, who is CEO of Veolia's France and Special Waste Zone, shared Veolia's vision for a long-term nuclear future where waste is more manageable, safer, less costly and requires far less landfill capacity.  A future where technologies can greatly reduce or even eliminate risks to humans involved in the disposal of nuclear waste, and where learning from other sectors fortifies efficiency, strengthens resilience and lengthens the lifespan of nuclear plants.
VNS FS Booth - In The Main Exhibition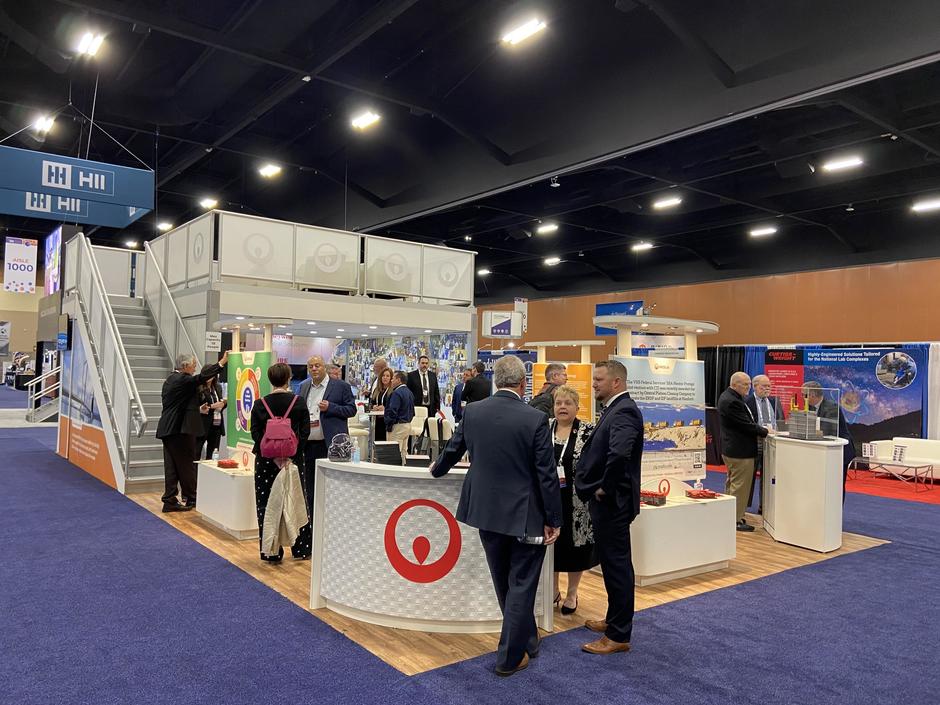 VNSFS President & CEO Steve Moore called the conference a great success.
Our Veolia team took full advantage of the setting to highlight our impressive range of capabilities and our strengths as an innovative partner. We had many productive meetings with current and potential partners to talk about ways we can continue to help DOE in its important mission. VNSFS continues to build its brand in the market as a trusted solution-oriented partner for technology innovations, engineering services and a full range of waste management and D&D capabilities. In 2022, VNSFS deployed its GeoMelt® vitrification technology at a new facility in Texas to demonstrate our commitment to taking on the hard challenges in the DOE-EM complex. We're just getting started.

VNS had a special presence in the exhibit hall as part of the French Pavilion focused on the French nuclear industry.  France is the second largest country producer of nuclear power with 56 reactors and plans to build 14 more.  Several VNS experts participated in panels and presented papers and posters demonstrating VNS' continuous innovations in radioactive waste management.
VNS Booth - In The French Pavilion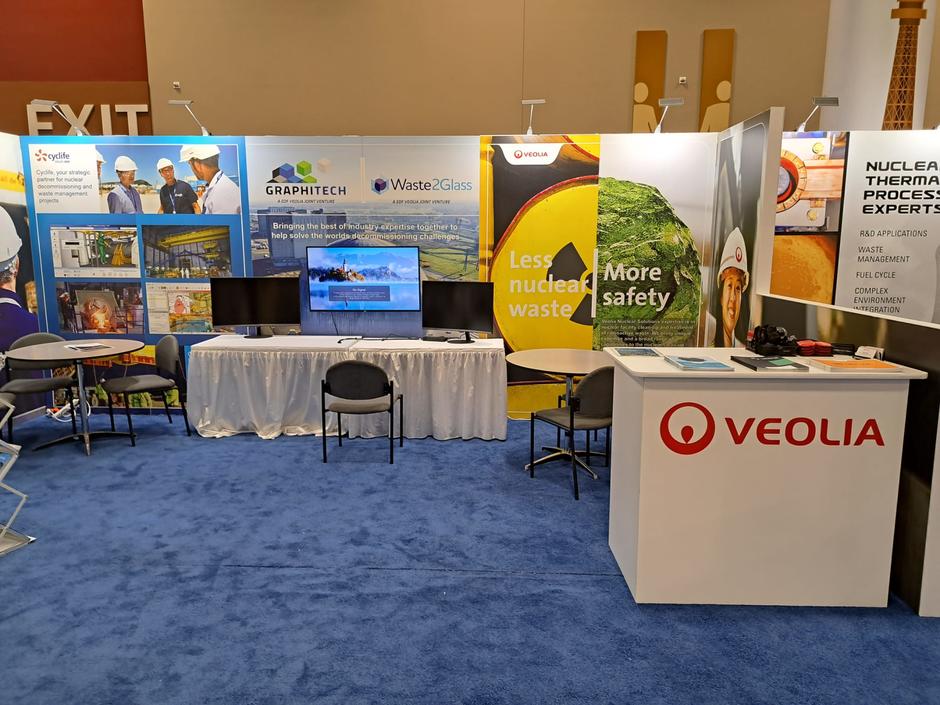 The Technical Program
The conference's technical program featured a record number of presentations, including more than 240 technical papers from professionals and students.  VNS and VNSFS subject matter experts shared how our combination of deep and varied experience, technological innovation, and operational know-how is helping partners.  Highlights included:
Deborah Degrelle, VNS Nuclear Measurement Engineer, discussed the TAWARA Device, an on-line alpha and beta activity detector for radiological characterization of liquid nuclear wastes and tap water.
David Wilburn, Business Development Director at Alaron Nuclear Services, presented a poster detailing "Transloading Economics in our high-priced truck transport market."
Christine Lucas, VNS Chief Technical Officer, co-chaired a session focused on French innovations, goals and challenges in radioactive waste management.
Ben Garrett, Process Engineer for VNSFS, provided an overview of Veolia's modular waste systems designed for the treatment of waters contaminated with radioactive isotopes.
Michael Moulin-Ramsden, VNS Head of New Ventures, presented a poster titled "Blended Intelligence for Safe and Efficient Nuclear Waste Sort and Segregation."
Jim Kriskovich, VNSFS Senior Technical Advisor, participated in a roundtable discussion on the advancement of HEPA filters at DOE sites.
Keith Witwer, Sr. Project Manager for VNSFS, presented a paper on how GeoMelt® In-Container Vitrification (ICV) is a permanent solution for Fukushima Daiichi's growing inventory of water treatment secondary wastes.
Kevin Finucane, VNSFS Project Manager, also discussed the use of GeoMelt® ICV at Fukushima Daiichi - but focused on how it vitrifies low- and intermediate level wastes.
Cyrille Veronneau, Research & Innovation Manager for VNS, discussed in-situ vitrification using GeoMelt® and new developments in the SOLVERIS collaborative research project in France.
Pascal Evrard, CEO of Waste2Glass – a Veolia EDF joint venture, presented information on management of Technologically Enhanced Naturally Occurring Radioactive Material (TENORM) using GeoMelt® vitrification.
Ron Mitchell, Deputy Director of Technology Deployment for VNSFS, gave an update on how VNSFS is treating problematic reactive metal wastes at its new GeoMelt® facility in Texas.
Matthew Cole, VNS VP and Technical Director, shared how the Veolia EDF joint venture called Graphitech, is meeting the challenge of dismantling graphite reactors in France.
These presentations and the broader conference allowed VNS and VNSFS to showcase its talent and expertise in a way that should drive future success for the company, according to Sean McGraw, VNSFS vice president for corporate growth and strategy.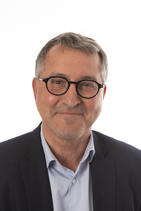 Throughout Veolia, our purpose is driven by ecological transformation. At this year's WMS, I was highly impressed by the innovation, collaboration, and dedication of all participants. I am especially proud of the VNS team for how they are taking on and sharing their experience about some of the challenges facing our sector. In particular, how we are playing our part toward safely decommissioning legacy assets, efficiently processing back-end waste, and safely and sustainably consigning waste. Planning for the future is a responsibility for all of us within the nuclear sector. I remain optimistic that by working together we will overcome the challenges faced.