VNS Federal Services (VNSFS), a U.S. based subsidiary of Veolia Nuclear Solutions, announced that Bob Miklos, a retired nuclear waste expert from the Idaho National Lab (INL), has joined the company as Executive Vice President of Program Assurance.
Bob will help VNSFS continue its excellent quality culture and identify opportunities for performance improvement and technology innovation across the enterprise. He will leverage his experience with the national lab network to identify opportunities across the U.S. Department of Energy (DOE) complex where Veolia can apply GeoMelt® and other technologies to develop solutions to the challenges facing our customers. He will also provide support, as needed, for global Veolia technology programmatic development.
VNSFS President and CEO Steve Moore called Miklos "a valuable resource who will help identify solutions to support our clients' DOE missions." "Bob is a recognized expert throughout DOE on delivering solutions to complex challenges," Moore continued. "His experience at the Idaho National Laboratory provides him with a unique understanding of the challenges facing not only INL, but clients throughout the DOE complex."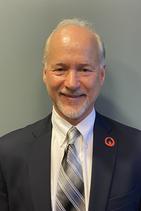 I am excited to be a part of the Veolia team and looking forward to leveraging my experience and skills to contribute to the company's continued growth and long-term success.

About Bob Miklos
Miklos recently retired from INL after 23 years of service. He most recently held the position of Director of Production Facilities and Treatment Storage and Disposal Facilities at INL's Materials and Fuels Complex, where his responsibilities included spent fuel recycling, nuclear fuels management, waste management and legacy environmental waste disposition. He also oversaw nuclear and radiological facility operations at INL's Fuel Conditioning Facility, Remote Handled Low Level Waste Disposal Facility, Radioactive Scrap and Waste Facility and the BEA Idaho Nuclear Technology and Engineering Center facilities.
He has more than 30 years of experience in disciplined operations of nuclear and non-nuclear facilities, spent fuel and waste management, start-up and testing, integrated safety management and project management of large-scale and complex projects. Prior to joining INL, Miklos spent 18 years in large-scale commercial construction, capital asset projects and U.S. Department of Defense construction, submarine overall and aircraft carrier prototype overhaul, defueling and refueling, and decommissioning experience. Miklos is actively engaged in the Energy Facilities Contractors Group (EFCOG), currently serving on its Board of Directors and previously as chair of its Project Delivery Working Group. He holds undergraduate degrees in engineering from Pennsylvania State University and Old Dominion University. He is a PMI-certified Project Management Professional and a Stanford University Certified Project Manager.