As the UK embarks on the next phase of its nuclear journey, the imperative of efficient waste management and decommissioning is becoming very apparent
The UK has been at the forefront of all aspects of the nuclear industry for the past 70 years. As the dawn of the next phase of nuclear energy arrives to meet the goals of net zero and energy self-sufficiency, the UK can once again be a model for safe and efficient nuclear energy production. This begins with accelerating the treatment of its 70 years worth of legacy waste. Efficient treatment of nuclear waste means increased benefit to employing nuclear energy and allows for smarter design decisions, which can be guided by lessons learned during the final part of the waste life cycle. The UK government has been proactively engaging with the industry through their Nuclear Decommissioning Authority (NDA) and Nuclear Waste Services (NWS), calling for innovative and new solutions to meet this challenge. 
Efficient implementation of decommissioning and waste management systems can minimise risk and significantly cut costs. While the UK has an array of facilities and experience available, these are only able to meet current operational needs. Existing capabilities will not, however, be able to handle the more than 4 million cubic metres of waste identified by NWS' yet to be recovered and treated to complete the UK's decommissioning programme. This waste and the desire to accelerate the decommissioning of all Magnox reactors, the obsolete submarine fleet and the research sites like Sellafield and Dounreay and the AGR reactor fleet means the UK market needs a step change in the volume of activity in all areas of waste management and decommissioning over the next 20 years. 
Waste Management can be very costly as processing, storage and disposal costs are directly related to the type and activity of the materials to be removed. The key to efficient waste management is characterisation. The correct characterisation will lead to the proper next steps, avoiding the affiliated costs of unnecessary disposal. As illustrated in NWS Corporate Strategy (see figure 1.0) there is an identified need to continue to adapt in order to meet decommissioning ambitions.
Improved technology and innovation provide an opportunity to develop equipment, processes and procedures to demonstrate leadership in both the waste management and decommissioning market, while also allowing the optimum balance for sites between:
Reducing Cost - the balance between the costs associated with subcontracting and transport vs maintaining a dedicated on-site facility which will need to be decommissioned.
Minimising Risk - including the programme impact by minimising the complexity added to the characterisation process by sending samples off site for work.
Providing Flexibility - being able to ramp up or down characterisation capability efficiently. 
and
Maintaining Control –maintaining the control on site to prioritise the characterisation of samples which maximise your mission efficiency. 
For example, Veolia Nuclear Solution (VNS) with its rich heritage in providing measurement and characterisation, including accredited laboratories, have introduced the VNS Neomab Container. This innovative 'mobile' lab concept was created to meet analysis needs at a competitive cost with the flexibility to move to a new site when needed to minimise wastage and radioactive sample transport costs. The lab allows for a wide range of analyses to be carried out on and off-site in a container with state-of-the-art equipment to carry out measurements and characterisation of waste at a comparatively low cost while complying with all relevant regulations.
The lab is a concept created by the experts at VNS's Chasse-sur-Rhône Nuclear laboratory, near Lyon, which is accredited according to the ISO 17025 standard. It covers 11 characterisation and measurement techniques such as alpha, beta and gamma radionuclides including uranium, in multiple different matrices such as soils, sludge or water. With a capacity of 5,000 samples and over 14,000 analyses per year it works with adapted and validated processes, procedures and equipment, on all types of complex matrices, for both chemical and radiochemical analyses.
The mobile lab is constructed to be precisely configured to client requirements, with location and industry in its concept. Veolia is a leader in adapting solutions within numerous industries. A mobile unit in Ghana, for example, has been configured to monitor effluent quality at the Obuasi mining site and is equipped with advanced technology. Mobile labs are currently being evaluated by the French Alternative Energies and Atomic Energy Commission (CEA).
To help meet the UK's forthcoming growth in requirement, VNS is also discussing, with local stakeholders, the benefits of local measurement and characterisation laboratories, configured for specific site requirements, minimising risk and costs of sample transportation, and cost and liability issues associated with permanent structures.
As the UK embarks on the next phase of its nuclear journey, underpinned by the ambitions of net-zero emissions and energy self-sufficiency, the imperative of efficient waste management and decommissioning becomes very apparent. A strategic emphasis on effective nuclear characterisation and measurement not only reinforces energy commitments but also establishes a legacy of responsible and pioneering nuclear practices that can help shape the future of sustainable energy worldwide.
Join us at our forthcoming webinar 'Advanced Approaches to Nuclear Measurement and Characterisation' taking place 10 Oct 2023. Free to attend, learn more about innovations in the area of waste lead strategy, characterisation and measurement systems. Register today at PMILIVE: Advanced Approaches to Nuclear Measurement and Characterisation
Above, figure 1: Reproduced from Nuclear Waste Services' Corporate Strategy 2023
---
Why is this important:
Proper characterisation of waste coming from nuclear sites is needed to allow for lower cost diversion and most sites are equipped with appropriate labs to handle the throughput of the sampling required for site operations. However, for many UK sites, the mission today is decommissioning with the subcontracting of characterisation services and the decommissioning of site laboratories falls under the mission. Yet the transport and off-site processing of active samples also pose risks including a loss of control over the processing of samples to meet the mission priorities.
Characterisation is required throughout the decommissioning lifecycle:
At the front end - as an essential enabler to waste led decommissioning - identifying the most cost-effective processing and disposal route and maximising reuse and recycle for out-of-scope materials.
During decommissioning operations - to routinely monitor and ensure that the wastes are as expected and appropriate safeguards are in place.
Prior to disposal - to confirm the waste processing and storage / disposal route prior to dispatch and that the most cost effective disposal routes are being deployed in practice.
In today's environment, and in line with ongoing consultations, some of the decommissioning challenges associated with low activity nuclear wastes are breaching the boundaries of whether the radioactivity or other hazards are the more dominant. Again, characterisation and understanding our waste profiles is critical to the efficient processing of such materials including the potential to maximise reuse and recycle. Characterisation is not limited to activity but could be an enabler to opening other conventional disposal routes for hazardous wastes.
---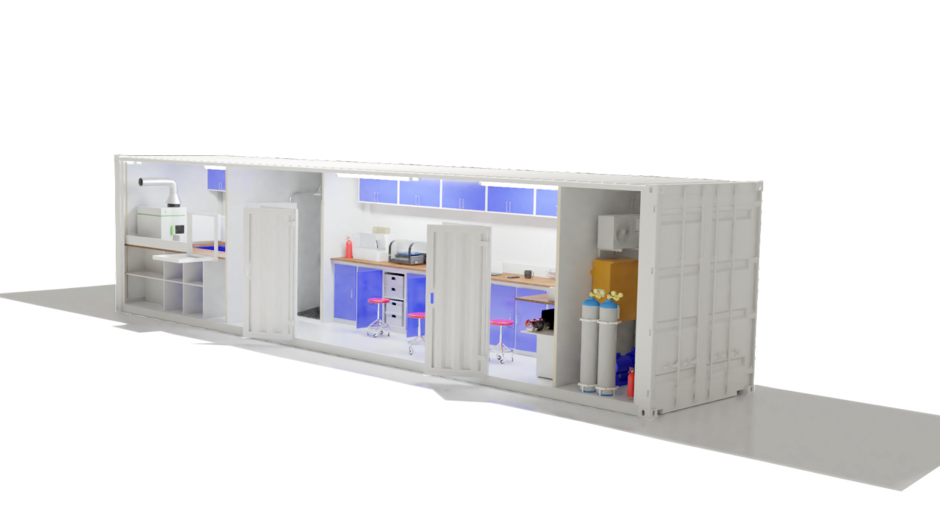 Above: The VNS Neomab Container 'mobile' lab concept was created to meet a wide range of analysis needs